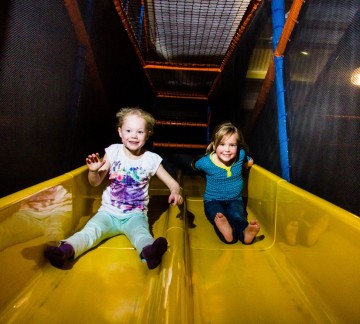 At campsite De Zandhegge children can always play indoors. Heggies Speelschuur offers hours of play fun for the children.And it makes a carefree and wonderful holiday for you being parent or grandparent. After all, if the children are having fun you are having a fun holiday too. Climbing, clambering, jumping and running. Tobogganing, ride a zip line or swim around in our ball pit, this is all possible in indoor playground Heggies Speelschuur.

Guests of Campsite De Zandhegge have free entry to our indoor playground. Being a parent or grandparent you can enjoy the children playing and enjoy a cup of coffee, and make use of the reading corner or free hotspot. It's also possible to get several drinks, cans with lemonade, croque monsieurs, sandwiches and plates.
Heggies Speelschuur is opened daily. Look for more information at: www.heggiesspeelschuur.nl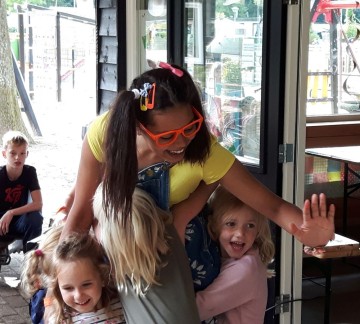 During the holiday periods there is a professional animation team to organise the funniest games, craft work, dances and children's theatre. There always is the coolest program for kids up to 12 years old. You will join us won't you?
In the morning we start cheerful with dancing on the terrace, afterwards we go and feed the animals. Then we make the coolest craft works in the craft work club. In the afternoon a sports or game activity on the sports field or a fun hunt. And at night time children's theatre followed by another sports or game activity for the bigger kids. Besides that we organise yearly bigger events everybody is looking forward to: the playback show, multi-event and the night hunt.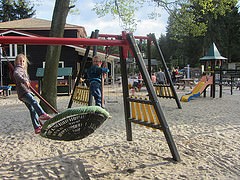 Our big playground is next to our central building, close to the swimming pool and the terrace. On the campsite are 2 more small playgrounds between the pitches. These are just perfect for the smallest guests.And you can keep an eye on them as well.
We own 4 go-karts which can be used freely for some time by everybody. Of course we would like you to bring them back and make sure everybody is sharing.
Do you want to book for a period longer than 3 weeks? Contact in that case the camping itself directly by phone or email.