Frequently Asked Questions
What are the arrival and departure times?
Pitches: Arrival from 14:00, departure before 12:00. Rental accommodations: Arrival from 15:00, departure before 11:00.
What if I arriveafter the opening hours of the reception?
If you arrive outside the opening hours of the reception (8:30 to 18:00 pm) we would appreciate it if you contact us in advance by phone or email.
Can a car be placed at the pitch or accommodation?
Next to the comfort pitches, rental caravans Heggies Stekkie and Heggies Plekkie, the Lodge tent and 6 persons Wooden Cabin one car is allowed. At the car-free pitches, the 4 person Wooden Cabin, Farmertent there is a special parkingstrip next to the field.
The pool is also open to visitors?
No, our pool is only open for guests staying at our Campsite.
When is the recreation team present?
The recreation team is present during the May holiday, Ascension, Pentecost and during the summer holidays.
Is there WIFI present?
Yes there is a wireless WiFi network available in the park. Tickets are available at the reception and in Heggies Indoor Playground we have free WiFi available at a slower speed connection.
Are dogs allowed on the pitch?
Per pitch a maximum of 2 dogs are allowed. Dogs from visitors are not allowed!
Which accommodations allows dogs inside?
In the 6 person Lodgetent, the 4 person Farmertent and six person Mobilehome Heggies Plekkie dogs are allowed to a maximum of 2 dogs per property.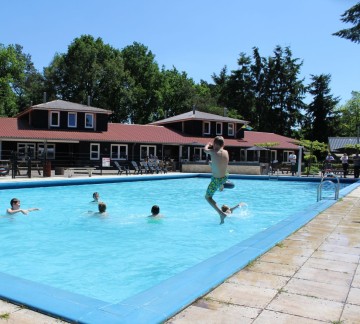 Do you want to book for a period longer than 3 weeks? Contact in that case the camping itself directly by phone or email.