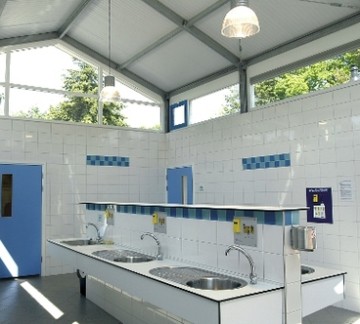 Our heated sanitary block is our absolute frontpiece. Because we have washbasins, showers, toilets, dishpoints and points to wash veges and clothes and chemical toilet dumping points our sanitary block is fitted with all conveniences.
Cheerful and colourful children's sanitary facilities and baby baths make washing and showering a big party for children!
In the back of our campsite sits a small sanitary block with toilets and washbasins and places to wash dishes and dump point for chemical toilets.
The campsite provides a launderette with a washing machine and a dryer. This way you're fitted with all conveniences!